This is Not Your Traditional Holiday Card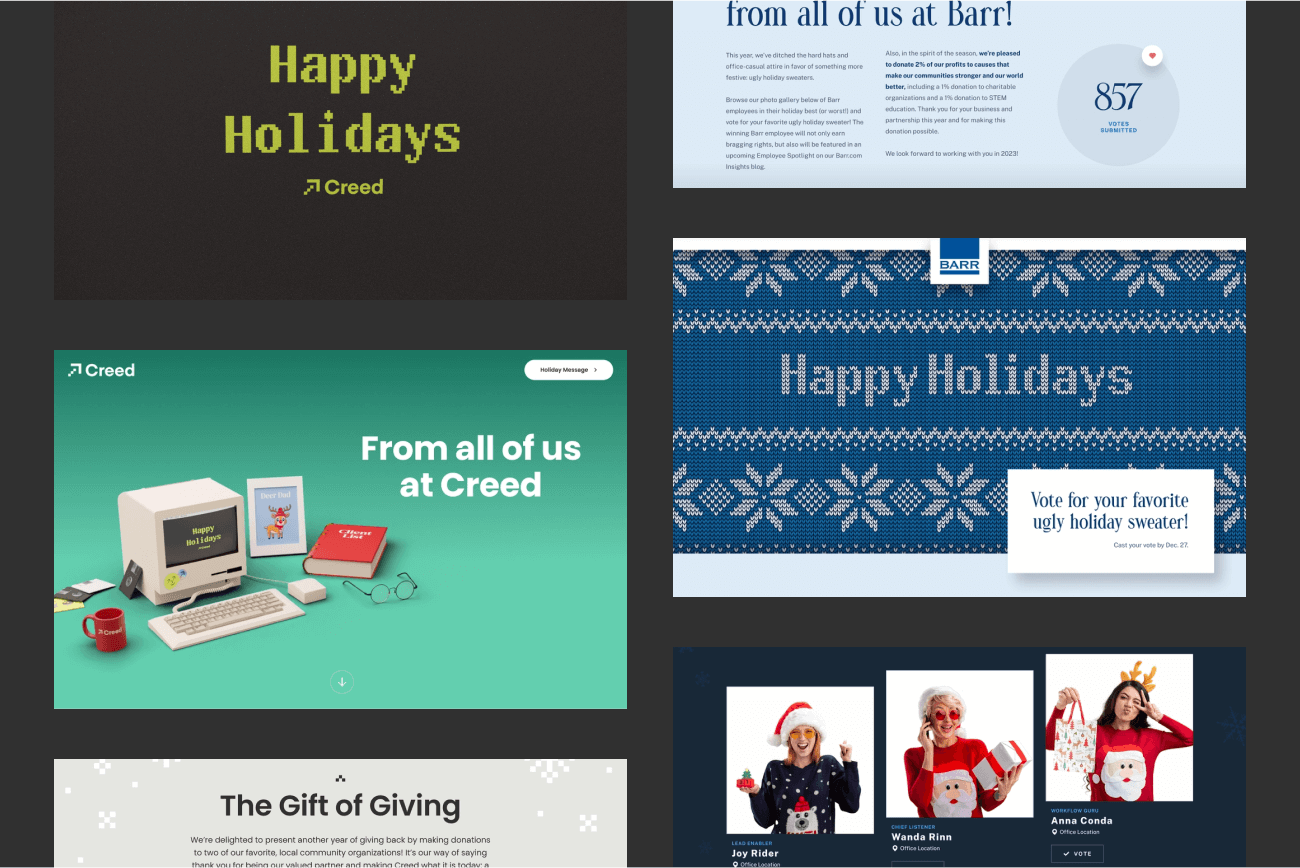 Award-Winning Holiday Cards Sure to Delight Your "Mailing List"
Though the holiday season has come and gone, it is never too early to start thinking about next year. Digital holiday cards are a fun, inviting, and environmentally-friendly alternative to traditional, mailed versions.
For the past several years, Creed has been tasked with creating unique and engaging digital holiday experiences on behalf of some of our long-term clients. We always look forward to what our team of design rockstars will showcase, given the opportunity to flex their creative prowess.
This year we were excited to deliver our client a custom holiday experience with the following goals:
Communicate a holiday message of gratitude to their clients
Showcase their charitable contributions and community impact throughout the year
Personalize the experience by involving their staff, in a fun and unique way
Allow clients to interact with the experience, perhaps through a "voting" feature
Create a way for the holiday card to have additional longevity beyond initial distribution, perhaps with a follow-up in upcoming blog posts and additional content
The Creed team delivered. Check it out below:
Project Details Included…
Custom Webflow development
Creation of sweater graphics—complete with hand-stitched details
A viewable "vote counter," with nearly 1,000 votes received
Added visual interest via a parallax scroll, while the background color changes
And of course, festive holiday music
The Gift That Keeps on Giving
In the spirit of giving, our team couldn't pass up the opportunity to create a unique holiday card for our own exceptional clients. This year, our team gifted our clients a playful, custom holiday website, with the opportunity for Creed to make a charitable donation on their behalf, to a local organization.
With complete creative control, Creed's design team delivered a nostalgic and layered experience that was sure to make viewers smile.
Project Details Included…
Custom Webflow development
3D holiday scene and animation created in Blender
Scroll-based animations using an image sequence
Pixel design details to highlight the pixel arrow in the Creed logo
Throwback imagery complete with subtle delights intended to bring joy to the viewer
And the Award Goes to…
The Creed Team and our clients weren't the only ones blown away by this year's holiday website. Our site was honored with a Web Excellence Award—which highlights this year's "best of the best" in web design and development.
In this high-tech digital world, the role of creative artists has become central to every domain. Be it developing a website or mobile app, working on social media campaigns, or producing videos, the role played by these creators cannot be underestimated. With this idea in mind, the Web Excellence Awards brings one of the most prestigious competitions to promote excellence on the Web and applaud the incredible works of creative artists.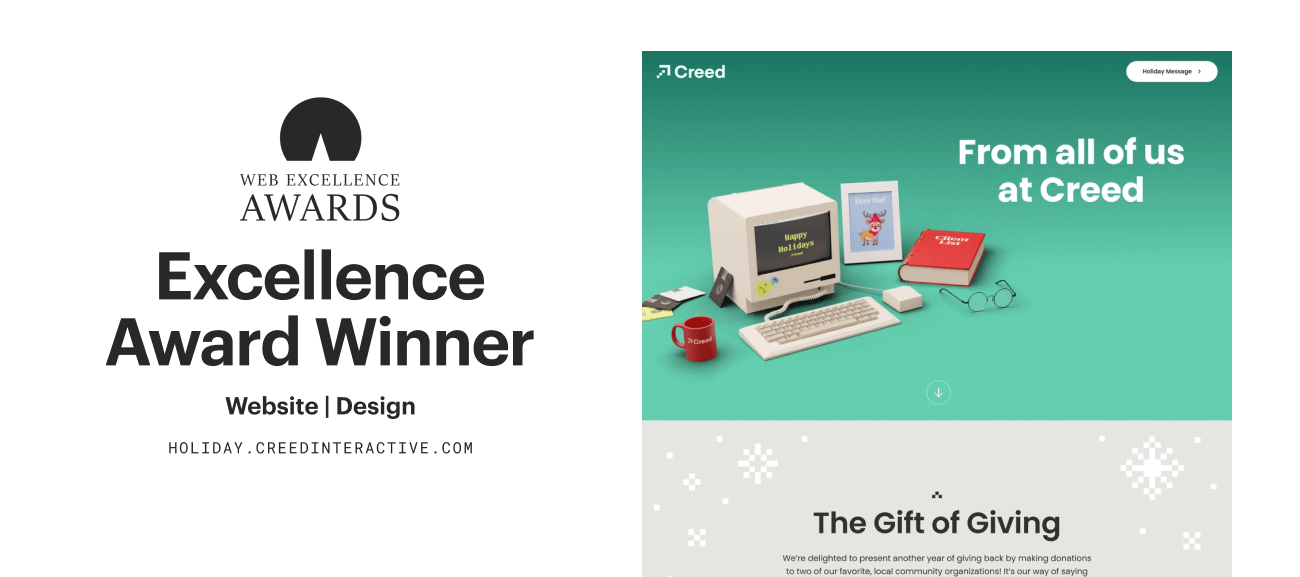 Interested in learning more about how Creed can help you level-up your holiday card experience? Contact us today and let's create something amazing together!
---