Meet the Team: AJ Jahnig, Senior Director of Operations and Delivery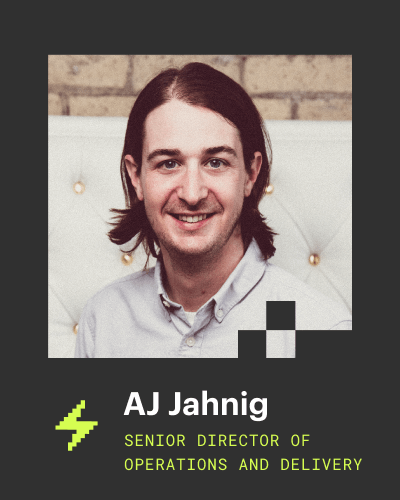 AJ is Creed's leading authority when it comes to operations. He started his career in tech project management in 2011 and joined the Creed team in 2015 as a jr. project manager. His dedication to his work and natural leadership skills helped him move up the ladder into more leadership roles, first as our Director of Project Management, and then to his current role as Senior Director of Operations and Delivery. Through a consultative approach, AJ and his team of project managers help our clients meet their goals with open communication to ensure alignment with project delivery timelines and identifying work-flow priorities. His collaborative approach helps his team of project managers be the seamless communication conduits between our clients and our teams to help ensure we meet requirements and on-time deliverables. 
AJ is passionate about…
Communication and equity inclusion – AJ believes open communication and an inclusive environment hold the key for a better way of doing business. He's passionate about making sure that every team member gets an equitable stake at work. From the most junior position to the most senior positions, it's his mission to ensure that everyone on his team feels like they have a seat at the table, that they have a voice, and that they're valued.
Key Skills
Time and Budget Management

Problem Solving

Client Strategy

Stakeholder Management

Internal Resources
Notable Creed Projects
ConvergeOne

Customer Center, Cloud & IQ Portals Intranet rebuild

OnGuard Lifecycle Asset Management 

Warners' Stellian

eCommerce Site Feature Maintenance and Redesign

St. Paul and Minnesota Foundation

University of Minnesota Carlson School of Management

Drupal site migration and redesign
Fun Fact
AJ comes from a musical background and began his career in the music industry, managing record labels and doing public relations for the bands on the labels. He also has a very extensive collection of vinyl.
---